News and Testimonials
Illinois Realtor Magazine highlights Sundance Replicas
Illinois Realtor magazine, a publication of the Illinois Assoc. of Realtors is showcasing Sundance Replicas in their January 06 edition. Sundance Replicas was one of five products selected out of several hundred exhibiting at the NAR Expo in San Francisco. Sundance Replicas was featured in the "Tools to Help Build Your Business" section.
Would you like to join the Sundance Replicas team?
We are currently looking for resellers and dealers. Markets of particular interest are home builders as well as the International market. If you are interested please call us toll free at 1 - 609 - 602 - 3243. Ask for Jim Marshall.
Sundance Replicas celebrates Stanley's win!
The Stanford Racing Team won the 2005 DARPA Grand Challenge. MDV, part of the team, hosted a grand celebration in their Menlo park offices. Each attendee received a Replica of Stanley, the winning vehicle pictured below. Congratulations to the Stanford Racing Team!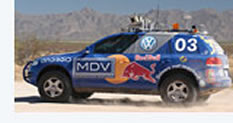 Sundance Replicas in Print!
Sundance was the subject of an article in the Washington Business Journal complete with a picture of one of our Replicas!
Sundance Replicas are a hit at the CMAA Conference in New Orleans
Sundance Replicas received rave reviews at the Club Managers Association of America Conference held in New Orleans. Club Managers saw a number of uses for our Replicas. Some Managers will be presenting them as gifts to members to commemorate a Club anniversary or renovation. Others will be providing a Replica of their Clubhouse as a tournament gift. Others still are offering Sundance Replicas for sale in their pro shops. Regardless of the occasion, Club Managers have been thrilled with the response from their membership!
Sundance Replicas raises funds for a Maryland School!
Sundance Replicas helped the Parent Club of a school local to Washington DC raise over $1000.00 as part of a fundraising campaign. Sundance Replicas created a custom Replica exclusively for the school and offered it to the current student body with a percentage of the sales going to the Parent Club.
Click here to learn more about fundraising with Sundance Replicas!
Testimonials
"My client absolutely loved the Replica of their home! They display it on their mantel; it has already led to three referrals! Now I give all my clients Sundance Replicas"
Mary M. Long and Foster Real Estate
"I have given my clients everything from fruit baskets, to wine and everything in between. But of course while appreciated, these gifts are soon gone. A Replica is something a client keeps forever."
Terry G. Re/Max
"Sundance Replicas partnered with the Parents Club and helped us raise a significant amount for our Christmas promotion. They managed the entire program for us. Parents were thrilled with the wonderful Replica of our school. Thank you Sundance Replicas!"
Bob H. Georgetown Preparatory School
"After making a home loan, I want clients to come back for a college or car loan, or a loan for a home addition. Sundance Replicas are a unique and personal gift my clients really appreciate. I always have Sundance Replicas put my contact information on the back of the Replica. It works!"
Tony, P. Access National Bank