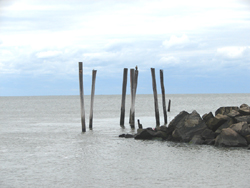 Affordable 30 Year Fixed Interest rates continue to attract buyers to real estate in Ocean City, New Jersey. We are still experiencing rates and APRS under 4.00 % Real estate here is Worth Another look.

Expect to put 25 % down to take advantage of the

best mortgage rates, although we are able to write contracts with 20 % down.

The inventory of currently listed homes and condominiums for sale in Ocean City is just over 820 listings as of November 1, 2015 whereas we had been running at over 1000 listings for several years. 2015 Year-to-Date data has indicated a confidence in the real estate market in Ocean City, New Jersey as reported by the South Jersey Shore Multiple Listing Service.

We continue to see a lot of activity in the $300,000 to $500,000 price range and the BEST news, the higher price ranges are seeing activity as well, including properties along the beach and bayfront.

Fall is in the air and there's no better time than now to find a home at the Jersey shore.

If a jersey shore purchase is on your horizon, don't delay ! Get PreApproved by a reputable lender and make a trip to the shore to take advantage of the Current Buying season.

Click here to link to this month's BEST BUYS selections.